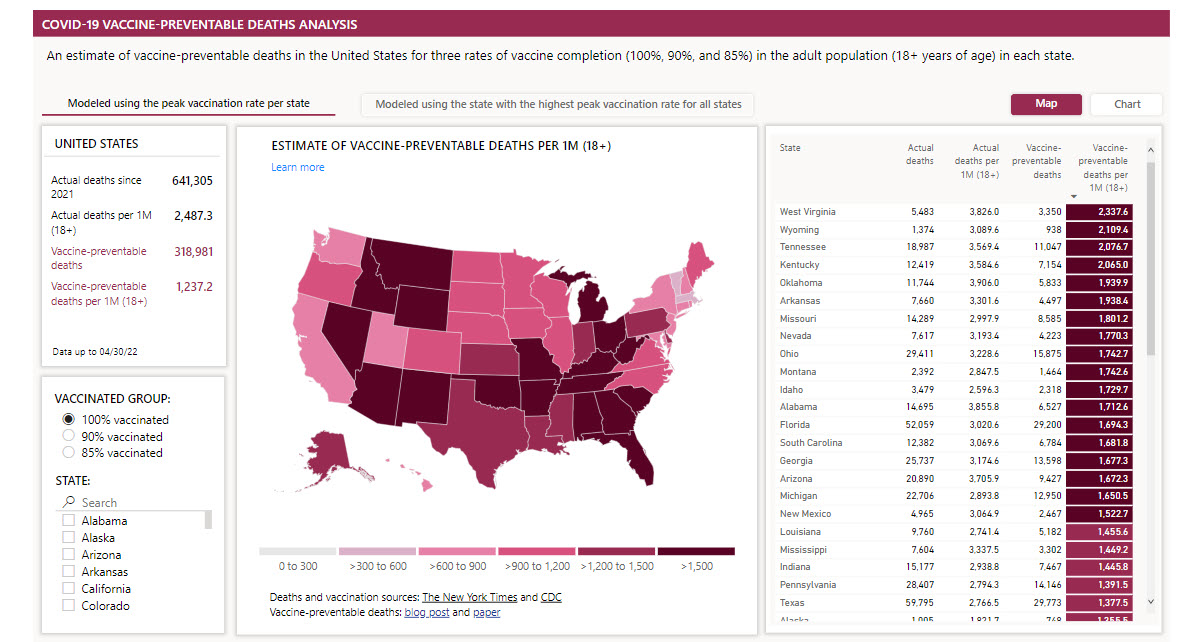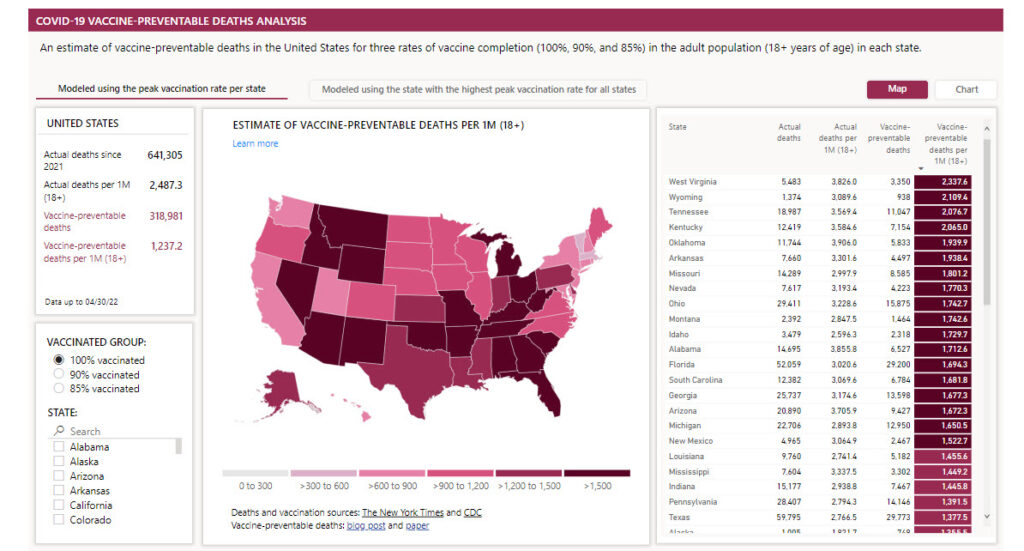 One tragic fact about the nearly 1 million people who died of COVID-19 in the U.S. is that a huge share of them didn't have to.
In Tennessee, 11,047 of the people who died could have survived if everyone in the state had gotten vaccinated. In Ohio, that number is 15,875. Nationally it's nearly 319,000, according a new estimate.
These figures come from an analysis released Friday by researchers at Brown University and Microsoft AI Health — shared exclusively with NPR — that estimates the portion of vaccine-preventable deaths in each state since COVID-19 vaccines became available at the start of 2021.
In early 2021, when the vaccines were widely distributed, there was huge demand. At the peak of the vaccination campaign in the spring, 4 million people got vaccinated in one day. That demand dropped off by summer. A year later, many states are still barely north of 50% of people fully vaccinated.
How many lives would have been saved if that slump in vaccine demand had never happened? To answer that question, Brown and Microsoft researchers calculated the peak vaccination rate for each state, and then imagined that rate continued until all adults in the state were fully vaccinated.
The total for the country is stark: Many of the nearly 1 million COVID deaths took place in 2020 before the vaccines were available. But of the more than 641,000 people who died after vaccines were available, half of those deaths could have been averted – 318,981 – had every eligible adult gotten vaccinated. And those numbers are even more striking in certain states where more than half of deaths could have been avoided.


"The vaccine rollout has been both a remarkable success and a remarkable failure," says Stefanie Friedhoff, a professor at the Brown School of Public Health, and one of the analysis's authors. It was a success, she says, in the sense that "the United States was first in getting those vaccines developed and making doses available at high numbers quickly to the public."
A lot of money and energy was invested in the logistics of the rollout – the supply side of the equation. Much less was invested in encouraging vaccine demand, she says.
"We did not start early on with information campaigns about why vaccines are important – what do they do for us?" she says. "We underestimated dramatically the investment it would take to get people familiarized with vaccines because, by and large, we haven't had a deadly disease like this, so people have become estranged from the important impact of vaccination."

Read Full Article